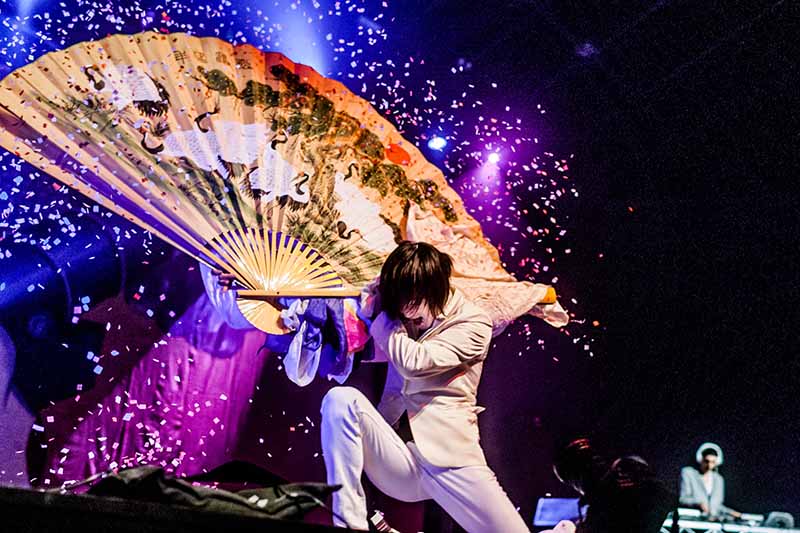 Magicians and illusionists of NSW: A day in the life of an entertainer by Neo Song – Sydney magician and Illusionist
Imagine spending more than a decade perfecting a single trick, constantly working with danger and making unmissable mistakes in front of huge crowds. We've revealed the inner workings of some of the state's best magicians.
Neo Song has a rare and impressive list of formal training in lots of theatrical arts including magic, acting, dancing, backstage production and direction. He has toured throughout Korea performing as an illusionist, professional dancer, consultant, and director. He's also performed in films like Ladyluck (as Ethan) and the Shakespearean play, A Mid Summer Night's Dream (as Oberon).
- Reporter: Clare Sibthorpe
How did you break into magic?
When I was practicing guitar I saw a magic show on TV. It took my full attention away. I put the guitar away on the corner of my room and started researching magic. Soon enough, it became my life.
How long did it take to do magic professionally?
I was trained at a magic company in South Korea for about two years. It involved serious work from 9am to 5:30pm. From morning, I started cleaning, emptying animals' cages, and non-stop studying and practicing magic until night time. I was usually staying there until 10pm because I just wanted to study and practice. I had to carry other senior magicians' bags and help them whenever they had gigs. But I was also being trained about theatre, staging production, dancing, lighting, and directing. It wasn't just about learning magic. This was twenty or so years ago.
Is a competitive industry?
In Australia? Yes and no. I would say it's quite moderate. Comparatively speaking, there are not that many full time magicians in Australia as far as I know, at least compared to where I come from in South Korea. However, if you don't work hard, you will not get paid,
What does your work involved?
Non-stop studying and practice. I don't have any supernatural power as some people may believe we magicians have. All I do, as far as magic and illusion goes, is based on science.
Specifically, my work has three different categories: creation, learning and practice/performance. My thought and behaviour process is:
What illusion would I like to achieve? What story would I like to tell? What tools can I use to deliver the illusion and story? Research. Choreograph. Non-stop practice in front of mirror. Record and monitor. Test trials and errors by performing to real people. Note the result. Repeat above depending on the result.
What is the longest it has taken your team to perfect a trick?
Sometimes it takes a few days or weeks. Depending on what you want to achieve, it could take up to 10 years. But even then, it won't always be perfect.
Where do you get your inspiration?
Everywhere. Sometimes, it just comes out of blue when I walk or drive. In general, I watch and study other forms of arts, like music, movies, animations, etc. Visiting science exhibitions helps me too.
What is the best part about your job?
The excitement of constantly seeking something new, followed by uncertainty. Enjoying the fear of uncertainty and the feeling of achievement and pride when my idea is loved by the audience.
What is the hardest part about your job?
Ironically, the fear of uncertainty. I humbly assume every artist starving for creation has this fear. I think: Will it work? Am I doing right? What if people don't like it? Am I nuts?
It's the agony of creation. If you want to be in this industry, you must have a strong mentality to continue when you fail.
Have you ever had anything go wrong in a performance of yours and how did you recover?
I am laughing because I'm reminded of a lot of episodes during my career. Something can go wrong no matter how well you prepare.
When I was in Korea, there was an idea about how to tell an amateur magician from a professional magician based on whether they can make the audience think a mistake is part of the show.
What is your ultimate career goal?
In the long run, I would like to help future generations in achieving their best possible magic.