Hi there!
As I've promised, I would like to share with you another great story of Surprise Marriage Proposal With Magic!
In August 2017, a passionate man Stefan contacted me for a consult. He was looking for some ideas to propose to his love, Lara, and asking me for help. He said he's always wanted to completely surprise her when the time comes but he's running out of ideas. As you know, my job is to surprise people, so I told him not to worry :)
After a conversation with him, I've realized that he would want to have some audience for his proposal so that he could make his girlfriend feel that she is the center of the moment. Due to this reason, he said he would book a table at a nice restaurant and propose to her there. Well, I told him that's fine with me. However, there was a little drama..;;;
1 week before the D-day, I've visited the restaurant he booked in order to arrange the surprise moment for him to make a kneel. The restaurant was The Braza in the Darling Harbour. However, for some reason, I found out that his booking was not registered in the restaurant. One of the floor managers of the restaurant checked their system and his booking was not created. I tried to create the booking for him but the restaurant was already fully booked on the D-day. I called Stefan and told him the situation, and he said he would arrange another restaurant.
3 days later, he told me that he's booked a table at the restaurant The Meat & Wine Co in Barangaroo. So, I went there to see what was possible and got a chance to talk to a person who seemed to be the general manager of the restaurant. However, the result of the conversation didn't really go well as I planned as he refused to have such a quick event for a couple at the restaurant. I still remember his words. He said "Our restaurant is very high-end restaurant and there will be so many customers on the night. Therefore, we wouldn't want to have such event for a couple so that it would interfere our business on the night". Previously, I have helped many couples to have such moment at many different restaurants but I have never had such refusal. Well, what can I do.
So, I called Stefan and told him about the refusal, which made him a bit anxious. Now, it was time for me to step in more aggressively as it was only a few days away from the D-day. I told him to leave it with me. As soon as I hung up on him, I called my friend, Jenny, who is the general manager of the restaurant Black Bird Cafe, in the Darling Harbour. I explained her the situation and she was happy to help me out. Thanks for her help, I was able to arrange a table with a nice view of the beautiful night in the Darling Harbour as well as the romantic moment for Stefan to make a kneel.
In the evening of the D-day, as I've planned, I've acted as one of the managers of the restaurant. Stefan did really good job too as he's also pretended that he's never seen me before lol.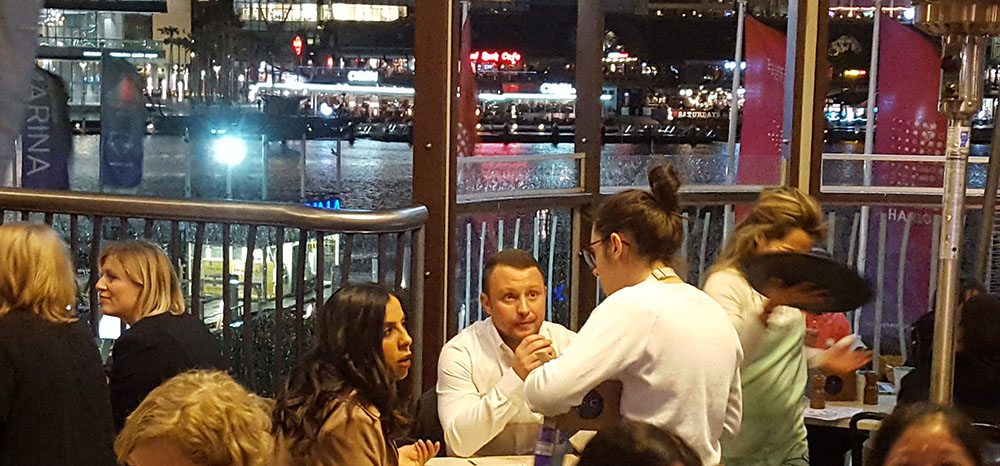 During his dinner with his girlfriend, Lara, I approached their table and showed a bit of magic tricks by saying that this is a little event for a person who's having a birthday party (Stefan brought Lara for the celebration of his birthday. So, Lara was under the impression that it was all for his birthday celebration all along). After the magic performance, the dramatic moment finally came...!!! :) Check out the video below to see the romantic marriage proposal:
The surprising moment was so great that she couldn't stop crying. This is one of those moments that makes me proud of my job :) A few days later, she gave me a heartful feedback about the happiness that I've created for her. Check out her comment below:
Lara Semrany: Neo is such an amazing magician who set up my wedding proposal with my Fiancé with professionalism and ease. I Totally thought he was apart of the management staff at the restaurant, but he was actually there for me. His tricks were mind blowing and the way that he presented my ring was a truely unforgettable experience. My fiancé was so happy and his expectations were completely exceeded - so we're mine as a matter of fact. Would definatley recommend him for future events and entertainment. Thankyou Neo
Congratulations Stefan & Lara :)
Check out The Romantic Proposal With A Street Magic Performance in the Darling Harbour, Sydney. Click here -----> Mile & Amalia